KEY FEATURES OF OUR PRODUCTION PROCESS
We've outlined the key features of our production process below. Keep reading to learn the benefits you'll receive when you choose to do business with us.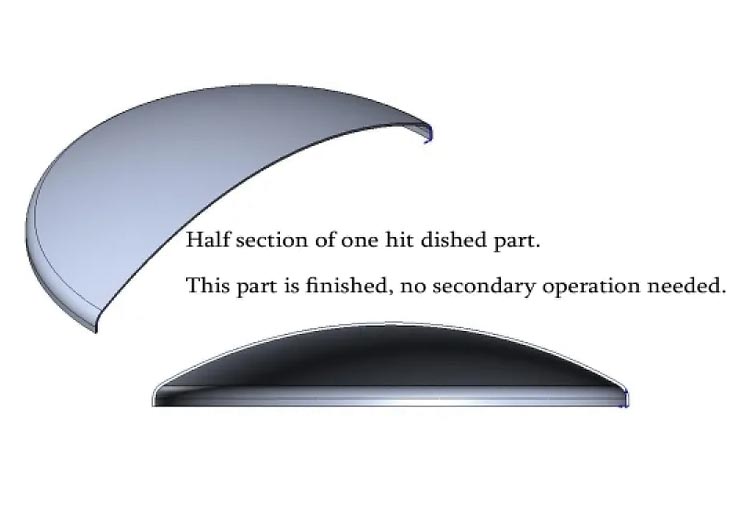 One Hit Precison Blank Tank Head
Guaranteed Excellence
Capital Cost: Highest
Tooling: Hardened Inserts For Top & Bottom Dies
Tonnage: Highest
Productivity: Highest
Secondary Operations: None Required
Flexibility: One Die One Part
Best Application: High Volume, Polished & Precision Parts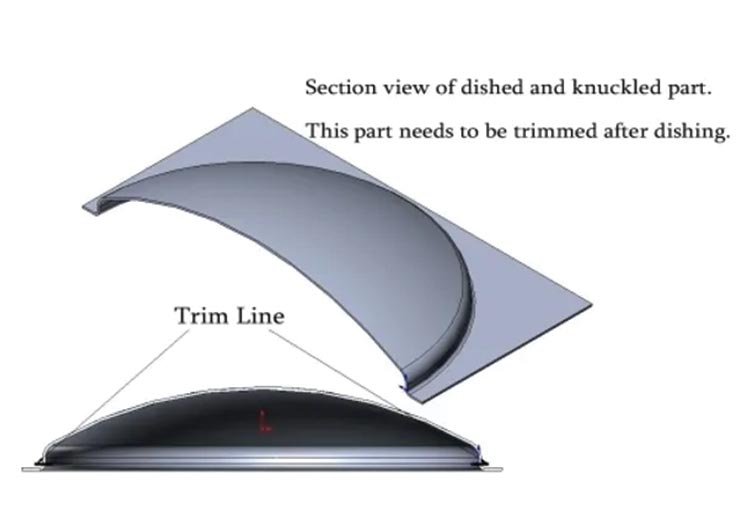 One-Hit Oversize Tank Head
Only the best
Capital Cost: Medium
Tooling: Less Expensive Top & Bottom Dies
Tonnage: Medium
Productivity: Moderate
Secondary Operations: One Trim After Forming Using Multi Axis Plasma
Flexibility: One Die One Part
Best Application: Medium Volume Parts & Thinner Gages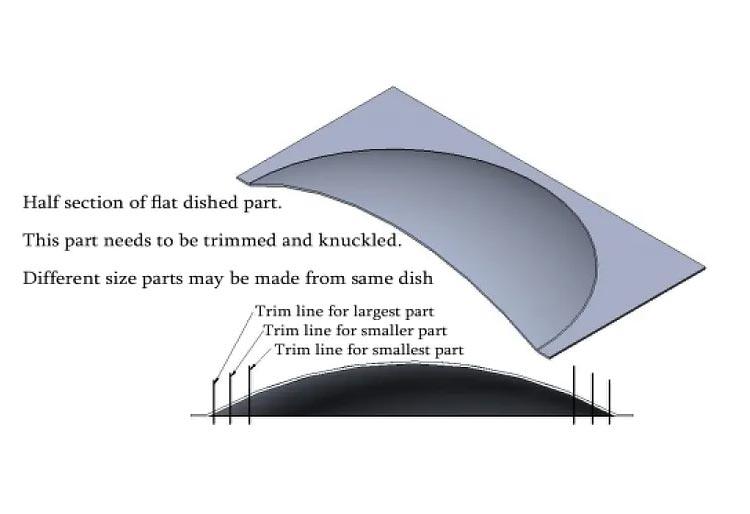 Dishing-Only Oversize Tank Head
To satisfy your needs
Capital Cost: Lowest
Tooling: Lowest Cost (Top Die Only/No Bottom Die)
Tonnage: Lowest
Productivity: Lowest
Secondary Operations: Two Trims, Knuckle & Polish After Forming
Flexibility: One Die For Different Parts/Knuckle Flanged Separately
Best Application: Low Volume Parts, Custom Shapes, Thickest Gages
This process only requires a female die to form the dish.
The head material may be pre-polished, and paper protected before air-dishing and the dished area of the head does not need to be re-polished.
Air-dished heads do not have internal stresses like spun heads.
These heads do not have distortion problems when holes are cut in them.
Many different sizes of heads can be made from the same female die.
The dished head is trimmed to the required size needed to form the knuckle and straight flange. (using a flanging machine)
Bumped heads are formed using male and female radius dies.
This process forms a small dished area into the head at a time.
Many passes are required over the entire area until a dish is formed to the specified radius.
This process is generally used to form thicker heads.
This process is not recommended to form thin materials because the dies leave forming marks ("fish scales") in the head material.
After the dishing process the heads must be flanged (using a flanging machine).